Street theatre
Spanish, French, Basque
Suitable for all ages
Running time: 45'
https://www.tercerasetmana.com/en/performing-arts/flux
Synopsis
When we put a mirror on the street; which reflects the attitudes, casual happenings, or the fleeting interactions of passers-by; we ponder better.
Flux invites us to take part in a game in a space of communication and amusement; since there is no other place as theatrical as a city. Led by Txubio's voice, a speaker of conscience and delirium at the same time, the passers-by are depicted through a magnifying glass and the most unexpected situations arise. There is a red carpet too for the sake of those 15 irresistible minutes of fame.
Winner of the award for Most Original and Innovative Show at the International Theatre & Street Art Festival in Valladolid in 2016.
Director: Miguel Muñoz
Author: Creación Colectiva.
Performers: Txubio Fernández de Jáuregui, Miguel Garcés, Laia Cabrera, Bego Krego.
Scenography: Carlos P. Donado.
Stylists: Enriqueta Vega, Fernando Arzuaga.
Audio-visual materials: Taupada Multimedia (Fer).
Photographs: Taupada Multimedia, Alex Ardid.
Translations: Viva Babel
Production: Zanguango Teatro, Bilboko Kalealdia - Festival de Teatro y Artes de Calle Festival Internacional de Lekeitio
See more on Yourszene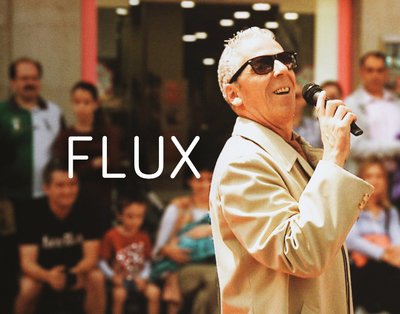 Events calendar
Paseo de la explanada
Alicante
A show by


Zanguango Teatro

Gasteiz / Vitoria, Spain

Founded in 1993, the company makes sense by combining the work of actor and group. This way, it has managed to produce shows both on stage ("Cualquiera que nos viera", "Aquí va a pasar algo", "Esto no me lo esperaba", etc.) and on the streets ("Al fondo a la derecha", "Flux", etc.) with texts originating from collective authorship that show everyday troubles. Unsettling issues such as the search for identity from a vitriolically humorous point of view, at times bordering on the absurd but always critical and committed. A playful style that will make anybody laugh.

See more on Yourszene