Street theatre
Suitable for all ages
Running time: 45'
https://www.tercerasetmana.com/en/performing-arts/femina-las-mujeres-mueven-el-mundo
Synopsis
Emotion, truth, amusement and reflection. "Fémina. Las mujeres mueven el mundo" is a beautiful and visceral song that depicts the power women have held throughout history to move the world. This theatrical metaphor serves as a means to address issues such as sexism, body objectification, wage gap, sisterhood, patriarchy or gender-based violence. With a majority of women (coming from different disciplines) making up its cast, "Fémina" puts together a current, dynamic and rich picture that aims to make us think about the energy that has made this world turn since ancient times.
Direction, Authorship, Dramaturgy and Sound Space Design: Cristina Maciá
Performers: Cristina Maciá, Vanessa Yago, Sonia González, Ely Hernández, Rosa Ros, Juan Carlos García.
Consultant in the subject of gender equality: Puri Heras y Lorena Escandell.
Choreography: Sonia González.
Stage Manager: Juan Carlos Garcia.
Scenography: Irene Maciá.
Costume Design: Maite Cortés.
Photography: Santi Navarro, Juan Monzó y Marina González.
Video: Publisport.
Recording Studio: Eurotrack.
Assistant Direction and Communication: Marina González.
See more on Yourszene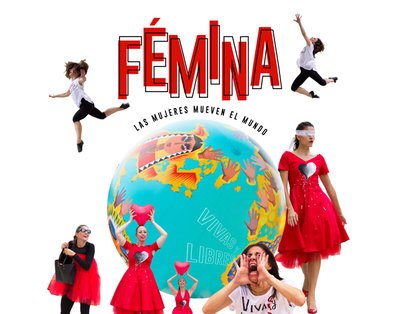 Events calendar
Plaça del Col·legi del Patriarca
Valencia
A show by


Maracaibo Teatro

Elche, Spain

This company, which has focused on theatre both for adult audiences and family ones, has been combining dramatic techniques such as animation, dancing or music with puppets, large moving sculptures and even pyrotechnic effects since 1996. Having based their works on texts of their own authoring or those of classical and modern authors, they have managed to appear in all sorts of spaces (social centres, universities, schools, festivals, cultural centres, etc.). However, it has been on the streets where they have found the ideal stage to spread a poetic and festive language in which the act of theatre is the main character.

See more on Yourszene